Year 5 Netball Fixture vs St Paul's
On Monday 3rd December all Year 5 girls played in a netball fixture against St Paul's School. The A team lost 5-6 in a hard fought game. The B team lost 0 – 4.  All girls showed determination and sportsmanship throughout.

ISA Swimming Nationals
On Saturday 1st December six students from Gatehouse School competed at the ISA Nationals held at the Olympic pool. The students performed excellently and represented Gatehouse and London North with great pride.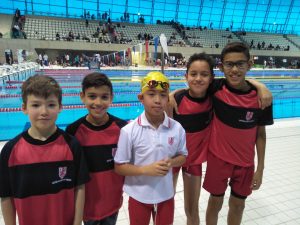 Results
Zak  – 2nd year 4 breaststroke, 4th year 4 freestyle and 5th in the relay
Kai – 7th year 6 backstroke, 4th year 6 freestyle and 7th in relay
Enzo – 4th year 4 backstroke
Pearl – 7th in freestyle relay
Matthew – 5th year 5 backstroke, 8th year 5 front crawl and 5th in the relay
Malakai – 8th year 6 butterfly and 7th in relay
ISA London North Area Cross Country Championships
On the 24th January Gatehouse pupils competed in the ISA London North Area Cross Country Championships. It was an incredible performance from all our runners some of who were competing against pupils a year or more older than themselves. In total we have 7 runners from Gatehouse who will be representing the London North area at the National cross-country championships. Congratulations to both our U9 teams who defended our title from last year's competition.
TEAM RESULT
U9 Boys team champions
U9 Girls team champions
U11 Boys team 8th
U11 Girls team 4th
INDIVIDUAL RESULTS
U9 Boys (76 runners)
6th
9th
12th
14th
15th
31st
U9 Girls (84 runners)
1st
 7th
10th
17th
19th
33rd
U11 Boys (122 runners)
11th
39th
43rd
55th
56th
U11 Girls (98 runners)
6th
7th
22nd
30th
41st
45th