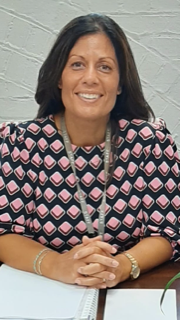 A warm welcome to the Gatehouse website, and thank you for expressing an interest in Gatehouse School. Our website will provide you with excellent insight into the friendly, family community that we are, and I do hope that you can gauge the positive energy, happiness and enthusiasm in all aspects of learning that makes Gatehouse such a special place to learn and grow.
As Headteacher of Gatehouse School I am proud of our non-selective, inclusive ethos, and I am supported by a dedicated and talented team of staff who ensure that each child's natural curiosity about the world is encouraged and expanded.  All of our successes are achieved through the successful blend of traditional values and modern educational principles.
Staying true to the vision of our founder, Mrs Phyllis Wallbank, all children at Gatehouse School are valued as individuals and they develop an excellent approach to academic work, achieving high standards throughout the school during their time with us. Our positive and personalised approach to teaching and learning ensures that all of our children acquire a determination and enthusiasm to enjoy every opportunity, and that they learn to try their best in all that they do. 
As a parent myself I appreciate how choosing the right school for your child is one of the most important decisions that you can make on their behalf. You will be entrusting into our care your most treasured possession and we are committed to ensuring that a successful partnership enables your child to achieve in all areas of development. I warmly welcome you to visit our school where you will see for yourselves how your child will thrive and achieve at Gatehouse School. 
I do hope to have the opportunity to meet with you as soon as possible. 
Mrs Sevda Korbay
Head