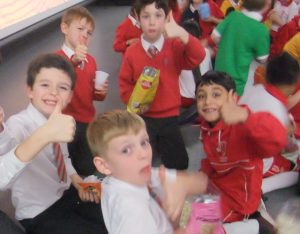 On Friday, Year 3 got to stay after school and watch a screening of Fantastic Mr Fox in the Wallbank Hall. It was hugely exciting, especially as we got to have popcorn in the interval. The film is inspiring us to write stories this week containing talking animals.
Year 3 were also treated to a recording made especially for them by the producer of the film. He is a friend of one of our parents and he told us how the film was made locally, using stop-motion animation.
We are super-excited to write our stories. They will feature either a badger, a robin or a mouse.
Miss LeVar